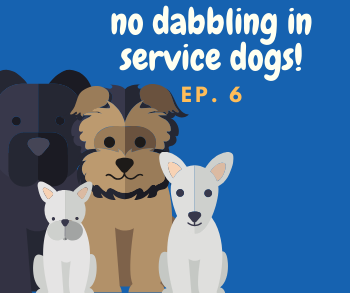 When it comes to service dogs (not therapy dogs, not emotional support dogs, SERVICE DOGS), there needs to be an extra layer of attention paid to the professional on the other end of the leash. Service dogs allow for their handlers to have an improved and more independent life. Therefore, the professional dog trainers who are training and placing these dogs MUST be of the highest caliber.
In this podcast episode, we speak with Laura Demaio Roy, a Placement Specialist with Fidelco Guide Dog Foundation and the Owner of DoggyU. Laura walks us through what service dog trainers need to keep in mind, how they should ideally hone their craft and more.
Laura is an excellent resource for all things service dog-related, is a solid dog trainer in her own right and is just an overall nice person to be around! Be sure to check out, subscribe and like Laura's YouTube channel, DoggyU. 
Want to help your dog in the manners department? Maybe you have a new puppy? Check out our newest online dog training platform, Family Dog University, where we offer online dog training courses, webinars, seminars as well as a regularly updated blog and podcast for all of your dog training needs!
Scent Work University is an online dog training platform focused on all things Scent Work. SWU courses and webinars are not only for those who are interested in competition, but also for those dog owners who are simply looking for something fun and engaging to do with their dogs. Check out Scent Work University today!
Interested in another dog sport? Dog Sport University is sister online dog training platform, give it a peek and see what it has to offer you and your dog.
Want to get fit with your dog? Then you need to check out Canine Fitness University today!
#itstimetotrainyourdog #puppynaps #puppytraining #familydog #familydogtraining #dogtraining #puppytraining #familydogu #familydoguniversity