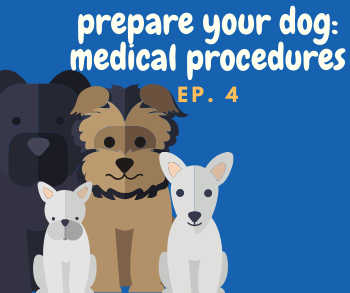 When it comes to our dogs, it is our job to help them be prepared for what they may experience throughout their lives. This is especially important when it comes to sudden medical procedures! We don't want our dogs stressing needlessly when they need to be concentrating on healing.
In this podcast, we discuss the need to prepare our dogs, through training, to accepting and even enjoying such things as the "cone of shame", crates and more. We discuss the importance of incorporating this type of training for ALL dogs.
Interested in learning more about management techniques, such a crate training, for your dog? Check out the Mighty Management for Dog Owners Webinar offered through Family Dog University.
Want to help your dog in the manner department? Maybe you have a new puppy? Check out our newest online dog training platform, Family Dog University, where we offer online dog training courses, webinars, seminars as well as a regularly updated blog and podcast for all of your dog training needs!
Scent Work University is an online dog training platform focused on all things Scent Work. SWU courses and webinars are not only for those who are interested in competition, but also for those dog owners who are simply looking for something fun and engaging to do with their dogs. Check out Scent Work University today!
Interested in another dog sport? Dog Sport University is sister online dog training platform, give it a peek and see what it has to offer you and your dog.
#itstimetotrainyourdog #coneofshame #familydog #familydogtraining #dogtraining #puppytraining #familydogu #familydoguniversity